Subject Lead
Zak Zablockyj
Subject Teachers
Zak Zablockyj (Primary, Year 9, 10 & 11, GCSE PE and DofE Bronze)
Andy Rush (Swimming, Primary, Year 7 and DofE Silver)
Nick Jackson (Year 8 and School Games Coordinator)
Jonathan Scarborough (Duke of Edinburgh Award Manager)
Sam Scothern (PE and OE Teaching Assistant)
Tobey Vidler (PE and OE Teaching Assistant)
Curriculum Intent
Overview
Physical & Outdoor Education is the best subject! At Greenfields Academy, the P & OE department strive to provide the most effective learning journey possible. We understand that if our subject is taught effectively and to a high quality, pupils will benefit in far wider ways than academic progress.

In an increasingly complex, sedentary and rapidly changing world, it is critical for every young person to not only be able to cope with life's challenges but also to flourish as healthy, safe and active citizens in the 21st century. This is a strong investment in the future of our community.

Technology and media will continue to transform our lives and change the way we communicate. Some health issues will endure while new ones will emerge. New forms of physical activity will become available. Students need critical inquiry skills to research and analyse knowledge and to understand the influences on their own and others' health, safety, wellbeing and physical activity participation. They also need to be resilient, to develop empathy and to be actively engaged in their own and others' wellbeing, using health, safety and physical activity resources for the benefit of themselves and their communities.

In Physical & Outdoor Education, students develop their skills, knowledge, and understanding to strengthen their sense of self, and build and manage satisfying, respectful relationships. They learn to build on personal and community strengths and assets to enhance safety and wellbeing. They critique and challenge assumptions and stereotypes. Students learn to navigate a range of health-related sources, services and organisations.

At the core of Physical & Outdoor Education is the acquisition of movement skills and concepts to enable students to participate in a range of physical activities – confidently, competently and creatively. As a foundation for lifelong physical activity participation and enhanced performance, students acquire an understanding of how the body moves and develop positive attitudes towards physical activity participation. They develop an appreciation of the significance of physical activity, outdoor recreation and sport in society. Movement is a powerful medium for learning, through which students can practice and refine personal, behavioural, social and cognitive skills.

Physical & Outdoor Education provides students with an experiential curriculum that is contemporary, relevant, challenging and physically active.

What does it look like?
Physical & Outdoor Education are taught as a specialist subject throughout both Primary and Secondary phases.

Knowledge and physical performance are secured in Physical Education using general activity areas such as; Invasion Games, Net/Wall Games, Striking/Fielding Games, Gymnastics, Well-Being Health & Physiology, Dance, Swimming and Athletics.


Knowledge and physical performance are secured in Outdoor Education using Adventurous or Outdoor activity areas such as; Watersport, Climbing & Heights, Trekking & Navigation, Cycling & Mountain Biking, Campcraft, Volunteer Service, Play & Exploration, Orienteering and Residential Experiences.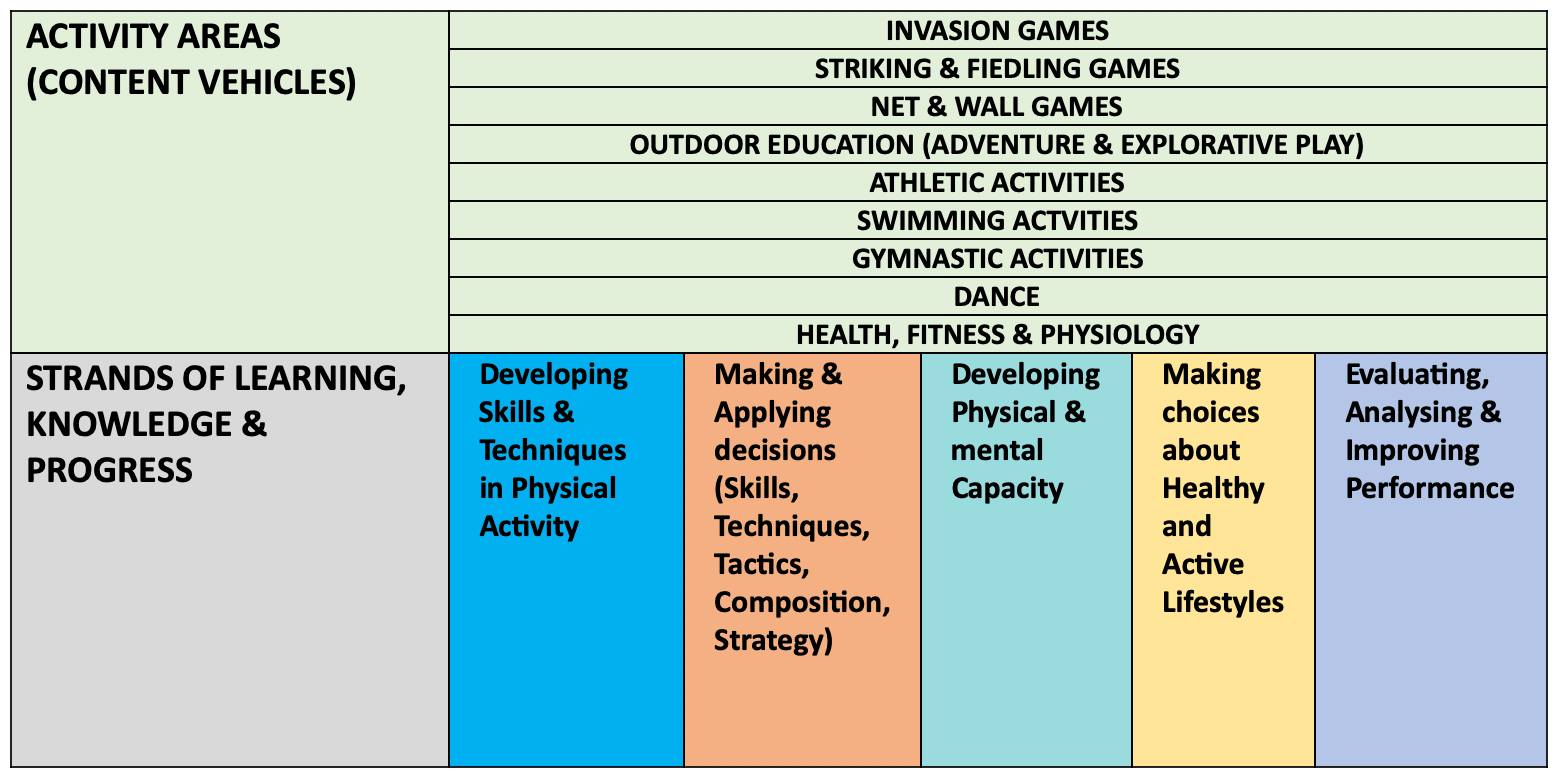 Intervention
Pupils identified as needing additional support or with specific 'motor and well-being' needs can access intervention schemes to narrow-the-gap in attainment, support their needs and address any identified conditions and raise self-esteem. Provision of these interventions is a priority for the subject between 2020 and 2022:

1 – Motorvate! A regular 1:1, intensive 20 minute session to develop either fine or gross (or both) movement skills and core stability. Referrals do not arise soley from PE, but may be identified in other practical subjects where poor motor control is affecting a pupils' capacity for progress or in their handwriting

2 – Drop off! 3 sessions per week of up to 30 minutes focused CV and Muscular Endurance based exercise, aimed at weight loss and muscle tone. Pupils referred through Annual Review/EHCP or via Pastoral review for pupils who display a high BMI or at risk of child obesity. The intervention requires parental support and interaction.

3 – Nearly 25! 2:1 tuition for pupils in Y6, who in by May of each academic year have not yet achieved 25m unaided swimming. This is targeted to ensure that the KS2 target is met and requires parental support and encouragement.

4 – Yoga Therapy Specialist small group or 1:1 Yoga with a specialist instructor for pupils with Dyspraxia

School Sport
Competitive School Sport is a key development area for Physical & Outdoor Education at Greenfields. Competitive School Sport experiences provide a unique and challenging environment which pupils can perform their acquired skills and techniques whilst exposing themselves to the emotions that competitive sport drives. Over the last three terms, significant progress has been made in this aspect with intra and inter school competition becoming a key feature of school life.

The academy's engagement in school sport is measured externally by the local SGO. In May 2019 the school was assessed as Bronze level and is aiming to progress this to Silver by May 2020.
Long-Term Curriculum Plans 2020/21
Year 7
Year 8
Year 9
Year 10 and 11
Year 10 and 11 – GCSE PE Part 1
Year 10 and 11 – GCSE PE Part 2
Accredited Learning
Physical Education:
Edexcel GCSE Physical Education (Short Course) – Optional Study at Year 10 & 11
British Gymnastics Trampoline Awards – Key Stage 2-4
British Swimming Distance Awards – Key Stage 2
Other NGB Award schemes

Outdoor Education:
Duke of Edinburgh (Bronze) – Year 10 (selected pupils)
Duke of Edinburgh (Silver) – Year 11 (selected pupils)
Subject Enrichment
Pupils have opportunities to enrich their physical learning within school through competitive experiences in our vertical House competition and beyond through Inter-School competitions in a wide range of sporting fixtures (Football, Swimming, Trampolining, Basketball, Badminton, Cross-Country, Athletics amongst others). Pupils will also have the chance to refine and practice their skills recreationally at break times. We strongly encourage pupils to enjoy the physical and emotional benefits of a healthy and active lifestyle at home and in their local communities and will support our pupils in locating appropriate Sports Clubs or by advising pupils and their families on healthy lifestyles.

We also encourage our pupils watch live and televised sporting events to appreciate elite performance and relate this to their own physical learning in school.
Useful Links
https://www.afpe.org.uk/physical-education/

https://www.youthsporttrust.org/

https://activelincolnshire.com/

https://www.dofe.org/

https://qualifications.pearson.com/en/qualifications/edexcel-gcses/physical-education-2016.coursematerials.html#filterQuery=category:Pearson-UK:Category%2FSpecification-and-sample-assessments

https://www.bbc.co.uk/bitesize/subjects/znyb4wx

https://www.yourschoolgames.com/
Subject Gallery