PUPIL'S SUPER (BLOOM) VISIT TO LONDON!
On Tuesday 7th June we took 24 pupils to London via both minibus and train to visit the SUPERBLOOM event at the Tower of London.
Greenfields Academy are one of 1,500 schools across the UK planting seeds as part of the SUPERBLOOM and this meant we were invited to visit the main event in the city of London.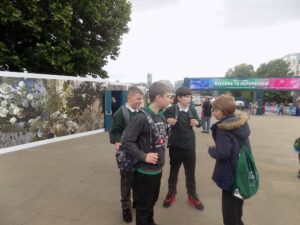 After seeing the beautiful flowers flooding the moat for the Queen's Platinum Jubilee, we took the pupils into the Tower of London where they were able to explore the grounds. They saw the guards and really enjoyed seeing the "bloody tower" and the "torture chamber".
The pupils were a credit to the school and made memories to last them a lifetime. Some even asking when we can go again already!
It was a long and enjoyable day with us leaving school at 8am and getting back to school at 7pm, but the sun shone and everyone left smiling.